In today's fast-paced world, visual experiences matter a lot. They play a significant role in capturing attention and conveying brand messages to consumers effectively. As technology continues to advance at a rapid pace, businesses in different industries are seeking innovative ways to create engaging and immersive environments for their customers. One such innovation that has gained mass popularity is Video Wall Monitors.
These immersive digital displays have revolutionized how businesses in different sectors present their spaces. Immersive experiences can be created by arranging these commercial displays in a grid-like pattern. Well, Trueview Video Wall Monitors are meant to do the same. Our Commercial LCD Video Wall Monitors have revolutionized how real estate spaces, retail stores, shopping malls, control rooms, airports, etc., provide information while creating alluring experiences.
In this article, we will give you an insight into how our Video Wall Monitors can captivate your customers and leave a lasting impression. Let's start exploring right away!
Trueview Video Wall Monitors – Showcase Your Best with the Best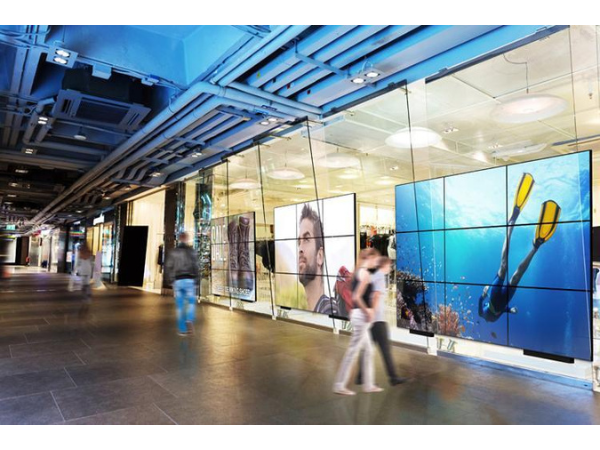 Real estate spaces, shopping malls, retail stores, airports, stadiums, etc., can use these large digital displays and provide a range of benefits to their customers. By showcasing products, advertisements, and other similar content in innovative and exciting ways, businesses can mesmerize their customers. The 21st century demands such creativity. To help business settings stand out, Trueview's cutting-edge, technologically advanced Video Wall Monitors can work like magic.
Here's more to our Commercial Displays.
Captivating Visual Experiences
Trueview Video Wall Monitors are designed to offer an incredible visual experience in large public business settings. With its 4K Ultra High Definition (UHD) display and seamless design, our digital displays can create larger-than-life-visuals that grab people's attention and draw them in.
The benefits of using Trueview Video Wall Monitors in such large spaces are numerous. Video walls have the power to engage customers the moment they enter your space. Whether promoting new collections, displaying advertisements, or showcasing property listings, you can enhance your brand visibility by multiple folds. All it takes is tiling our commercial displays with almost invisible bezels together.
For instance, by displaying high-quality images and videos, on huge video walls, real estate offices, retail stores, shopping malls, etc., can fascinate customers. Such commercial displays can also be used to provide product or service information in a creative and engaging way.
Dynamic Advertising and Branding
Effective advertising and branding are very crucial for success for real estate owners, retail store owners, shopping mall operators, etc. Captivating video walls provide them with a dynamic platform to showcase their offerings in a visually striking manner.
By incorporating vibrant images, eye-catching videos, and other interactive content, businesses can effectively communicate their message while creating a memorable experience for customers. With Trueview Video Wall Monitors, businesses can easily update their advertising campaigns and tailor them to specific target audiences for maximum impact.
Our commercial displays can also be used to showcase live feeds from various social media platforms or other similar sources. This can help businesses create a sense of community among customers.
Flexible and Customizable Solutions
One of the most brilliant features of Trueview Video Wall Monitors is its flexibility and customization options. Trueview LCD Commercial Video Wall Monitors can be customized to accommodate any business, infrastructure, or even entertainment-centric experiential requirements. From large retail stores or real estate showrooms to small boutiques, our advanced digital displays can be tailored to match a brand's aesthetics.
Trueview can create video walls for your business settings by understanding your specific requirements. They can be designed to fit unconventional shapes, wrapped around corners, or even cover entire walls. Our video wall displays are meant to create a marvelous, immersive visual experience – ensuring an impactful and cohesive presentation of your space.
Enhanced Customer Engagement
Trueview Video Wall Monitors, when tiled together, offer interactive features that can greatly enhance customer engagement. By incorporating such fantastic capabilities, businesses can enable their customers to interact with the displayed content seamlessly.
Such intuitive, interactive elements open up new possibilities, such as product demonstrations, virtual property tours, or personalized shopping experiences. A business's ability to entice customers on a deeper level not only piques their interest but also improves overall customer satisfaction and loyalty.
Cost-Effective Solution
Contrary to popular belief, LCD Commercial Video Wall Monitors have become increasingly affordable over the years. This makes these displays a cost-effective investment for businesses of all sizes. All thanks to the advancements in technology. On top of that, with increased competition in the market, video wall monitor prices have significantly reduced. Thus, nowadays, more and more businesses are taking advantage of this transformative technological innovation.
Well, Trueview Video Wall Monitors are preferred by businesses all over India as they require minimal maintenance and have a long life span. Moreover, our digital displays provide a solid return on investment over time.
Other Powerful Features of Trueview LCD Commercial Video Wall Monitors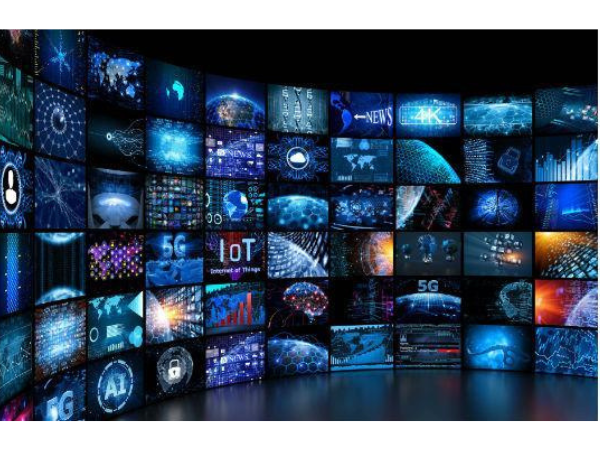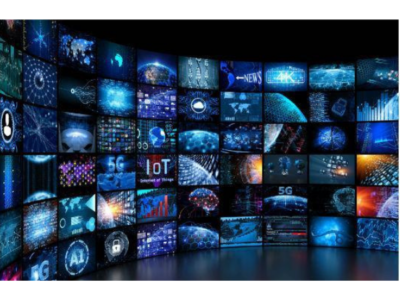 4k UHD Resolution
500 Nits Brightness
60,000 Hours Life
Sizes – 49 & 55 inch
24×7 Usage (applicable for demanding applications)
Incredible Color Depth (stunning visuals)
Multiple-Display Signal Input (HDMI, DVI, VGA, Video, etc.)
Multiple Viewing Modes
Advanced Technology (with sleek design)
Super thin 0.8mm Bezel
Designed for Continuous Duty Cycle
Compatible with Video Wall Controllers
Eco LED Backlit for Power Saving
Video Wall Control Software
EMC Metal Body Housing
Conclusion
Video wall monitors are undoubtedly transforming the way retail stores, shopping malls, real estate spaces, etc, operate. Businesses can create an immersive environment that leaves a lasting impact on their customers by harnessing the power of flexibility, captivating visuals, interactive engagement, and dynamic advertising. As technology continues to evolve, commercial displays are set to become an inherent part of the future of various industries. Thus enhancing customer experiences and driving business growth.
Embracing this innovative video wall technology is a step towards rising above your competitors and creating spaces that are truly remarkable. With Trueview Video Wall Monitors, turn your vision into reality. Create spaces that imprint your brand's image on people's minds!
About Trueview
Trueview is a leading brand in manufacturing cutting-edge Video Wall Monitors in India. Our dedicated commitment to innovation and excellence has made us the top choice for businesses seeking to create immersive visual experiences. With Trueview LCD Commercial Video Wall Monitors, businesses of any size can transform their space into a captivating digital canvas by merging multiple displays.
Our state-of-the-art monitors boast unparalleled clarity, ultra-high-definition resolution, vibrant colors, etc. – delivering breathtaking visuals that captivate audiences. Whether you're presenting mission-critical data, creating engaging video installations, or showcasing dynamic advertising content, our Video Wall Monitors offer unmatched reliability and performance.
Contact us today to take your visual communication to newer heights and make a lasting impression on your audience.
Captivate, Impress, Repeat!