Gone are the days of monotonous pamphlets and static bulletin boards. In this technologically advanced fast-paced world, where information is key, public institutions must start embracing cutting-edge technology to interact with the people.
In this blog, we will explore how Trueview Interactive Panels can revolutionize the way people access and engage with information at government institutions and libraries.
How can Trueview Interactive Panels Transform Libraries and Other Government Institutions?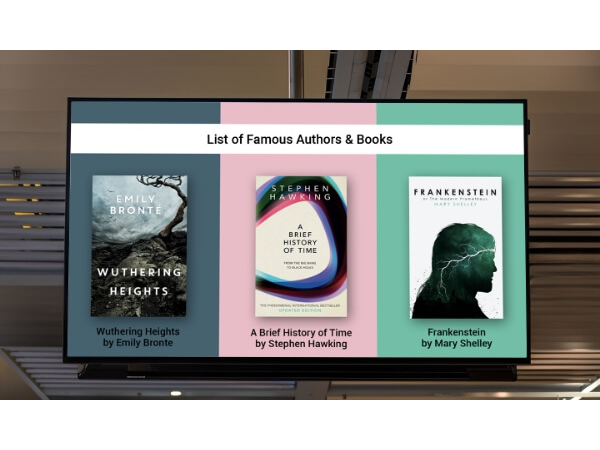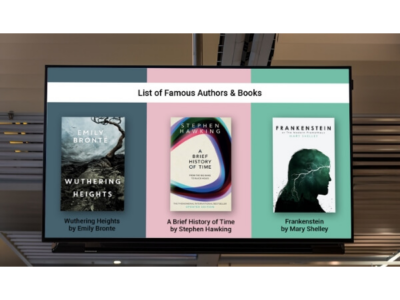 Let's together delve into the world of Trueview IFPDs and understand how public institutions can leverage them for their benefit.
1] Engaging, Informative, Interactive Spaces – The IFPD Advantage
In today's world dominated by digital communication, public spaces like government institutions and libraries must try to adapt to the changing digital landscape. One of the easiest ways to achieve this feat is – by embracing Interactive Flat Panel Displays. These digital displays offer a significant advantage over traditional static displays. With vibrant, intuitive user interfaces, touchscreen displays, real-time updates, and many other useful features, Trueview Interactive Panels can captivate visitors along with encouraging active participation.
2] Technical Specifications that Make a Difference
Behind the sleek exterior of our Interactive Panels lies a sturdy technical backbone. These advanced, powerful features make our Digital Displays a game-changer. The technical capabilities of our IFPDs set them apart from static, non-touch traditional displays. Our smart panels thus can prove to be a highly effective tool for libraries and government institutions.
All the technical specifications of our Interactive Panels play a significant role in providing an engaging and seamless user experience. So, let's together explore the technical aspects that make our IFPDs the top choice of libraries and government institutions.
High-Resolution Displays
Trueview IFPDs boast 4K UHD screens with excellent image quality. These crystal-clear and vibrant displays ensure that the information showcased is visually appealing as well as easy to read. With our IFPDs, government institutions, and libraries can only capture the attention of visitors but also create immersive experiences for them.
Responsive Touch Technology
Trueview Interactive Flat Panel Displays are equipped with advanced touch-screen technology. The fantastic zero-bonding panel makes our digital displays highly interactive and user-friendly. There is no lag whatsoever. Thus, users can do the following effortlessly:
Navigate through menus
Access important information
Interact with content using intuitive touch gestures, etc.
Processing Power
Our state-of-the-art IFPDs are power-packed with robust processing power – ensuring a super smooth, lag-free performance. This, in turn, produces quick response times and enables seamless transitions between different content.
Ample Storage
Trueview Interactive Panels have ample internal storage and can hold vast amounts of data. This includes multimedia content like images and videos. With a sufficient storage capacity, all crucial information can be stored locally, thus minimising reliance on external servers.
Connectivity Options
Our Interactive Flat Panel Displays offer various connectivity options, such as:
Wi-Fi
Bluetooth
Devices (smartphones and tablets, desktops and laptops)
Such seamless connectivity helps with dynamic content delivery, real-time updates, and much more. This functionality also allows institutions to push timely announcements and other important information to our digital displays – without physical intervention.
Operating System and Software
Trueview Interactive Panels run on a reliable operating system. They support different OS like:
The software powering our Smart Panels offers a user-friendly experience. This factor makes managing and updating content super convenient and easy for administrators.
Multi-Touch Support
Our Smart Digital Displays support 20-point multi-touch capabilities (max – up to 40 points). This functionality allows multiple users to interact with the interactive touch screen simultaneously. This feature is particularly super useful in busy public spaces (like libraries and government institutions) where numerous people may be accessing information at the same time.
Security Features
User verification is one of the essential components of our IFPD security. To prevent unauthorized access and protect sensitive information, Trueview Smart Panels are equipped with a robust security feature – secure logins. Thus, all crucial data can be secured with password-protected access.
All the above technical specifications collectively work to create an elevated user experience – making our smart panels more than just passive information displays. By providing an interactive and seamless platform, IFPDs can transform how information is accessed and processed. As technology continues to advance, so will the technical specifications of our IFPDs – eventually making them more indispensable to modern public information dissemination strategies.
3] Applications that Redefine Public Interaction
The applications of Trueview Interactive Panels in libraries and government institutions are limitless. So, here's a glimpse of how our IFPDs can transform the way information is presented and accessed in public spaces.
Digital Wayfinding
Navigating large libraries or government premises can be overwhelming for people. Here, our Interactive Flat Panel Displays can serve as an interactive wayfinding tool. Using the interactive touch screen, visitors can navigate maps, step-by-step directions and reach their desired locations easily.
Real-time Updates
The tech-savvy people of this new era like staying up-to-date with the latest news and events. Well, public spaces should learn to leverage this factor and keep the visitors engaged. Digital Displays enable such spaces to provide instant updates on what's going around in the world – ensuring that the visitors receive the most current information effortlessly.
Interactive Catalogs
Libraries are a hub of endless resources, and manually going through them can be time-consuming. In such spaces, Trueview Smart Panels can offer interactive and dynamic catalogs. This will allow users to browse through the vast collection seamlessly – in less time. By browsing on our touchscreen displays, they can easily do the following:
Check resource availability
Check place holds
Get recommendations based on their interests, and so on.
Virtual Tours
Government institutions lag when it comes to engaging visitors. However, with the changing digital landscape, these institutions must adapt to stay relevant. Our Interactive Panels can help such public spaces embrace this change and be at the forefront of innovation. Trueview IFPDs can be used to do the following:
Take visitors on a virtual tour
Showcase historical landmarks
Display informative exhibits and much more
This way, government institutions can not only bring history to life but also keep visitors engaged in a whole new way.
Community Engagement
Public institutions and establishments must understand that community engagement is an important aspect that should be taken care of. It not only helps engage visitors but also makes them a part of contributing towards something useful.
Trueview Interactive Panels can serve as a platform for citizen engagement. They can be used to conduct polls and surveys and even gather feedback. This way, public institutions can effortlessly know citizens' preferences and opinions on various matters.
4] IFPDs as Marketing Tools
Trueview Interactive Flat Panel Displays go beyond just being sources of information. Our digital displays can serve as a powerful marketing tool for libraries and government institutions. By offering tailored content and personalized experiences, our Interactive Panels can open a pool of marketing opportunities. Let us tell you how.
Interactive Contests and Surveys
Trueview Interactive Panels can help government institutions and libraries host surveys and interactive contests – encouraging users to participate actively. For instance, using our IFPDs, government institutions can conduct surveys on different policies, community preferences, collect valuable for future decision-making, etc. On the other hand, a library can run quizzes or reading challenges – rewarding participants with virtual points, badges, or something of a similar sort.
Such engaging activities help government institutions and libraries not only create a sense of involvement but also foster a positive relationship with the audience.
Cross-Promotional Opportunities
Trueview Digital Displays can be used for cross-promotion between library services or government departments. For example, a library can use our interactive panels near the children's section and promote upcoming cultural events, adult reading programs, etc. Similarly, government institutions can use our IFPDs to promote encouraging collaborative initiatives and co-sponsored events – thus maximizing exposure for all involved parties.
Sponsorship Opportunities
Trueview Interactive Flat Panel Displays can open sponsorship opportunities for organisations and local businesses. Libraries and government institutions can collaborate with sponsors. These institutions can use our IFPDs to display promotional content or sponsor advertisements in exchange for financial support.
This way, public institutions can generate revenue, and local businesses can benefit by reaching the target audience more effectively.
Increase Footfall
Our IFPDs can be useful in increasing the footfall for public institutions and establishments. Libraries can do the following using our Digital Displays:
Promote upcoming events
Promote workshops
Promote book launches, etc
While government institutions can effortlessly advertise public ceremonies or gatherings through our IFPDs – drawing more people to their venues.
Enhance Brand Image
By adopting innovative technology like Digital Displays, libraries, and government institutions can project a modern, progressive image and elevate their brand perception. By leveraging IFPDs as a marketing tool, government institutions and libraries can do the following:
Enhance their outreach efforts
Create a more engaging visitor experience
Build stronger connections with the public, etc.
This way, our smart panels can provide valuable information along with offering an immersive and dynamic platform for event, service, and initiatives promotions. Thus, ultimately strengthening the brand image and community presence of public institutions and establishments.
5] Enticing User Experience
The visually appealing interface of our Interactive Flat Panel Displays possesses the power to captivate people almost instantly. By showcasing engaging, eye-catching content, government institutions and libraries can effortlessly draw people's attention. Users usually get drawn in by the high level of interactivity and gain more confidence in accessing the information they seek. This implies that IFPDs are capable of not only enhancing user satisfaction but also encouraging them to return for more.
More Powerful Features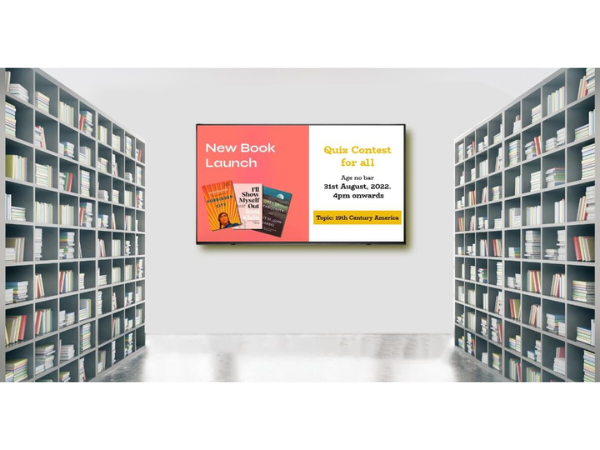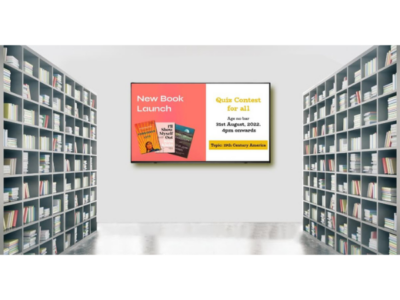 4k UHD Resolution
178° Viewing Angle
2 x 20W Speakers
Type-C Port
450 nits Brightness
Anti Glare Screen
8 MOHS Toughened Glass
20-Point Multi-Touch
Zero Bonding Panel
Zero Lag
Advanced White Board (Writing Brush, Regular Pen, Pattern Recognition, Mind Map, Table Insertion, etc.)
Screen Recorder
Screen Annotation
Split Screen for Multi-Tasking
60000 Hours Screen Life
Remote Access
Bluetooth Connectivity
Built-in Google Play Store
App and Tool Lock
Conclusion
Interactive Flat Panel Displays have revolutionized how libraries and government institutions interact with the public. IFPDs have become imperative assets for any modern, forward-thinking establishments and institutions because of their advanced technical finesse, myriad applications, marketing potential, etc.
It must be taken into consideration that embracing this transformative display technology is not limited to just staying relevant. It's also about redefining public engagement and taking user experience to a whole new level.
To pave the way for a more interactive, engaging environment, public institutions and establishments must leverage these futuristic digital displays. Well, Trueview Interactive Panels can do it all!
About Trueview 
At Trueview, we are revolutionizing public information dissemination with our state-of-the-art Interactive Flat Panel Displays. With over a decade of overall experience, we have become a leading manufacturer and seller of cutting-edge display technology solutions in India. We take pride in crafting IFPDs that redefine how libraries and government institutions engage with their audiences. We aim to shape a future where technology meets innovation – creating seamless connections between public institutions and their valued audiences.
As a customer-centric company, we aim to provide personalized solutions and top-notch support to meet our client's unique requirements. Our team of experienced experts works closely with every institution and establishment and understands their objectives and goals – ensuring that our IFPDs perfectly align with their vision.
Wait no further; experience the transformative power of Trueview IFPDs. Let us partner with you on your journey towards engaging, interactive, and impactful public information delivery. For more information on our IFPDs, get in touch with us today!
Choose Trueview – Your Gateway to Interactive Public Information Display Excellence!