The new era of guest experience demands combining exceptional hospitality with cutting-edge technology. Nowadays, hospitality providers are striving hard to create unforgettable moments for their guests. Well, amidst the shift in the hospitality landscape, the integration of Interactive Flat Panel Displays has emerged as a game-changer. Gone are the days of traditional non-touch displays. Today's tech-savvy travelers seek interactive and immersive encounters.
IFPDs can be a great aid for hospitality venues to leave a lasting impression on their guests. In this blog, we will take you into the world of Trueview Interactive Touch Screen Displays.
How can Trueview Interactive Flat Panel Displays Elevate Guest Experience in Your Hospitality Venue?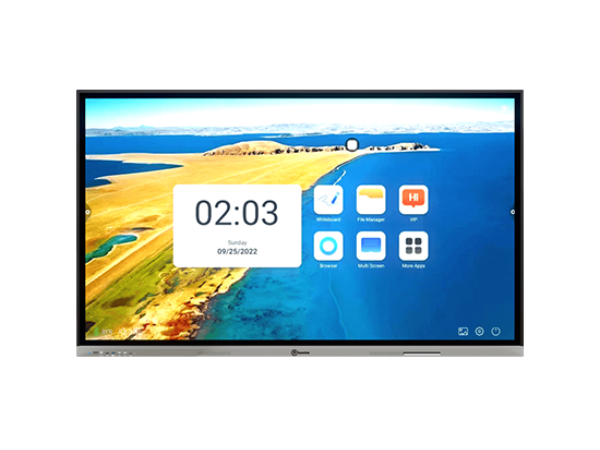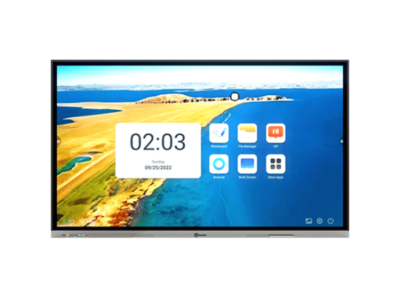 Let's explore how Trueview Touchscreen Displays (IFPDs) are revolutionizing the hospitality industry and offering guests unparalleled delight and engagement. Let's get started!
Seamless Connectivity
One of the key features of Trueview Interactive Flat Panel Displays is their seamless connectivity with various devices like smartphones, tablets, desktops, and laptops. On our interactive panels, guests can effortlessly mirror their personal devices and do what they want. Just imagine how the tech-savvy traveller staying at a hotel would feel if they could effortlessly stream their favourite content on a crystal-clear, large screen.
From sharing happy memories with family and friends to conducting virtual business meetings, Trueview smart panels open up a world of possibilities. Guests can thus stay connected and entertained throughout their stay.
For instance, a family staying at a resort can gather around an Interactive Flat Panel Display in their suite and do the following:
Plan their itinerary together
Explore local attractions
Make reservations at nearby restaurants
All the above activities can be done by the guests through their smartphones mirrored onto the smart display.
Personalised Concierge Services
Hospitality venues can leverage Trueview Interactive Panels to offer personalised concierge services. Doing so can enable their guests to access relevant services or any other sort of information with just a few taps. Our smart panels can be loaded with:
Interactive maps
Dining options
Spa bookings
Real-time flight information, etc.
This way, guests can tailor their experience according to their preferences. On the other hand, all of this can help hospitality venues create a sense of empowerment and convenience among their guests.
For example, hotels can effortlessly integrate their system with our interactive panels. These touchscreen displays can be placed in a hotel lobby, allowing guests to check in remotely, choose a room with specific amenities, select the desired floor, etc. Doing so will not only make things super convenient for guests but also help in setting hospitality venues apart.
Interactive Wayfinding
Navigating the property can seem daunting to guests, especially at large hospitality venues. Well, our Interactive Flat Panel Displays can act as an intuitive wayfinding tool. With step-by-step directions, interactive maps, etc., guests can easily find their way around the venue, spas, playrooms, leisure rooms, conference rooms, and so on.
For instance, venues with touchscreen displays integrated with interactive maps and guides (wayfinding features) can help people attending a destination wedding to quickly locate:
The wedding venue
Reception area
Nearby facilities, and do much more
Captivating Digital Displays
At present, people value the experiences a place offers. Hence, it is necessary for hospitality venues to captivate their guests from the moment they step in. Nowadays, static, traditional signage pales in comparison to interactive and dynamic digital displays. Well, Trueview Interactive Flat Panel Displays can help hospitality venues showcase the following:
Captivating content
Event schedules
Event promotions
Overall updates, etc.
Such capabilities make our interactive panels a perfect medium not only for marketing but also enhancing the guest experience.
For example, a resort can strategically place our IFPDs throughout the property to showcase enticing visuals of their dining options, spa services, and upcoming events, ultimately encouraging guests to indulge and participate.
Personalised Welcome Messages
Leaving a lasting impression in the minds of guests is what hospitality venues should strive for to stand out in this digitally influenced world. Well, Trueview Interactive Flat Panel Displays can help such venues achieve just what they desire. Our IFPDs can be customised as a welcome screen with personalised messages for every guest. Warm greeting messages with the guest's name or even tailored recommendations based on their preferences can be displayed creatively on our displays. These thoughtful touches can enhance the feeling of being valued and cared for.
For instance, a luxury hotel can use our Interactive Flat Panel Display to greet VIP guests with a personalised welcome message in their suite, along with exclusive privileges and offers for their stay.
In-Room Entertainment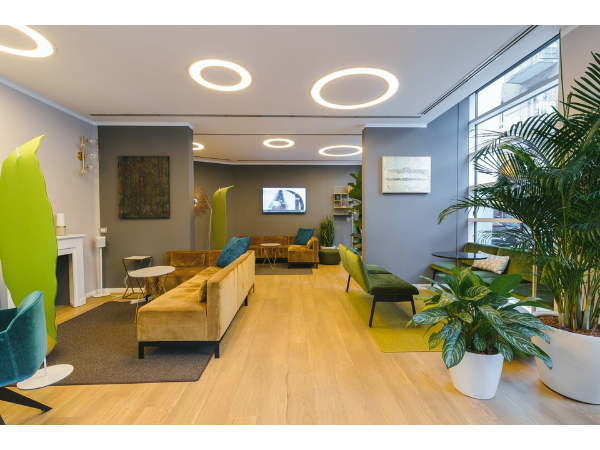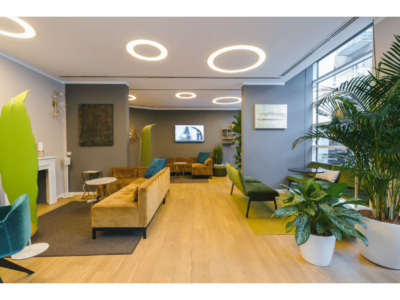 Interactive Panels can effortlessly elevate the in-room experience for the guests. They offer a vast array of entertainment options – right from streaming services to on-demand content. On our IFPDs, tech-savvy guests can easily access an extensive library of TV shows, movies, music, games, etc. They can even download various apps from Google Play Store. Such capabilities ensure that guests unwind, enjoy personalised entertainment, and turn their downtime into an immersive and relaxing experience.
For example, hotels can cater to health-conscious travelers by offering the flexibility to maintain their wellness routines throughout their stay. On our IFPDs, such guests can download a fitness app from the Play Store and access guided meditation sessions and workout routines from the comfort of their rooms.
Gamification and Interactive Entertainment
The gamification element holds the power to bring any space to life. Well, Trueview Interactive Flat Panel Displays can be used for creating interactive entertainment and engaging games for guests of all ages. Whether it's interactive puzzles, trivia quizzes, or other sorts of games, these activities instil an element of fun into the guest experience.
For instance, a family-friendly resort can arrange interactive treasure hunts with the help of our touchscreen displays. These smart IFPDs can be used by the guests to navigate through the property, solve clues, discover hidden gems, and win exciting prizes.
Interactive Learning and Cultural Immersion 
Trueview IFPDs can be used as educational tools in hospitality venues. They can be seamlessly used to offer guests an interactive learning experience about the local cultures and traditions, significant landmarks, and so on. By fostering cultural immersion, our digital displays can add value and improve the overall guest experience.
For example, a heritage hotel can make use of our interactive panels in their lobby for the following purposes:
Showcasing the rich history of the property
Presenting an engaging digital museum
Showcasing surrounding regions and other areas of interest
This way, hospitality venues can deepen the guests' connection to the destination.
Virtual Tours and Local Experiences
Hospitality venues can leverage Trueview Interactive Panels to offer virtual tours of the local attractions and other exciting experiences nearby. This feature allows guests to explore nearby cultural sites, landmarks, entertainment options, etc. After exploring the places digitally on IFPDs, they may get inspired to physically venture beyond the hotel premises and immerse themselves in the destination.
For instance, boutique hotels located in a lively, high-spirited city can use our smart panels in their lobbies to showcase virtual tours of nearby art galleries, museums, popular neighbourhoods, and other such places. This way, hotels can entice guests to explore the city's rich cultural offerings.
Virtual Events and Conferences
With the rise of hybrid events and remote work, interactive panels play a crucial role in hosting virtual meetings, webinars, and conferences. Using our IFPDs, hospitality venues can effortlessly provide top-notch amenities for event organisers and business travellers – catering to the dynamic landscape of corporate gatherings.
For example, a hotel can offer our state-of-the-art Interactive Panels to the event planners. Our IFPDs can help event organisers with the following:
Hosting hybrid conferences
Facilitating seamless virtual presentations
Conducting interactive Q&A sessions
Engaging networking opportunities, and so on.
Interactive Guest Surveys and Feedback 
Feedback matters a lot when it boils down to hospitality venues. It plays a vital role in overcoming shortcomings and providing the guests with a pleasant experience. Well, Trueview Interactive Flat Panel Displays can serve as a great platform for gathering valuable feedback from guests.
During their stay or at the time of the checkout, guests can provide their feedback through surveys displayed on the interactive touch screen of our IFPDs. A real-time feedback loop gives hospitality providers an opportunity to address guest concerns quickly. This way, based on guest preferences, hospitality venues can continuously improve their services.
For instance, a luxury hotel can use our touchscreen displays to collect feedback on specific services like room amenities, dining experiences, room amenities, spa treatments, etc. Thereby ensuring they meet and exceed guest expectations every single time.
Language Translation Services 
Hospitality venues are known for welcoming guests from diverse cultural backgrounds. Well, Trueview Interactive Flat Panel Displays can be integrated with language translation tools, thus enabling seamless communication between the hotel staff and guests. Adding this element will not only foster a sense of inclusivity but also ensure that language barriers don't hinder the guest experience.
For example, for hosting an international conference, a hotel can utilise our IFPDs to provide real-time translation services in ongoing presentations. By doing so, it can be made sure that all attendees are able to participate fully and comprehend the discussions.
Additional Features of Trueview Touch Screen IFPDs
4k UHD Resolution
Zero Bonding Panel
178° Viewing Angle
2 x 20W Speakers
Type-C Port
Bluetooth Connectivity
Anti Glare Screen
450 nits Brightness
8 MOHS Toughened Glass
Screen Recorder
Screen Annotation
Split Screen for Multi-Tasking
20 Point Multi-Touch
Zero Lag
Advanced White Board (Writing Brush, Regular Pen, Pattern Recognition, Mind Map, Table Insertion, etc.)
60000 Hours Screen Life
Remote Access
Built-in Google Play Store
App and Tool Lock
Conclusion
Integrating Interactive Panels in hospitality venues represents a remarkable transformation in guest experience management. Incorporating Interactive Displays in hospitality venues is a great investment in the future of guest experiences. Embracing the power of these smart panels will set new standards for modern hospitality and enhance guest satisfaction. Hospitality providers who embrace this innovative technology will not only demonstrate their commitment to elevating the overall guest experience but also help them stay ahead in a competitive market.
IFPDs create an immersive and dynamic environment for guests – leaving them with unforgettable memories, creating a desire to return, and, in turn, recommending the venue to others. So, what are you waiting for? Embark your guests on their next hospitality adventure, and captivate them with the magic of IFPDs. Make use of Trueview's modern display technology to provide exceptional service, converge, and create a truly extraordinary journey for every guest!
About Trueview
Trueview has been a pioneer in manufacturing the best Interactive Flat Panel Displays in India. With more than a decade of innovation and expertise, we stand tall as a trusted leader in the digital display industry. We understand the modern needs of the hospitality industry. Thus, we've been constantly focusing on revolutionising the guest experience in hospitality venues with our cutting-edge Interactive Panels.
Our commitment to excellence and focus on customer satisfaction have propelled us to the top. All our efforts have made us the go-to partner for hospitality providers seeking to create unforgettable moments for their guests. We pride ourselves on delivering state-of-the-art Interactive Panels that effortlessly blend superior technology with a sleek design.
Our world-class team of experienced designers and engineers ensures that every Interactive Flat Panel Display is equipped with intuitive interfaces, seamless connectivity, and other immersive features. With our IFPDs, we aim to help hospitality providers cater to the diverse needs of modern travellers by providing them with an unparalleled experience.
Partner with Trueview today and unlock a new realm of possibilities for your hospitality venue – where cutting-edge technology converges with exceptional guest experiences. To elevate your hospitality venue to extraordinary heights, talk to our experts today!
Embrace Cutting-edge Display Technology, Impress Your Guests, Repeat!